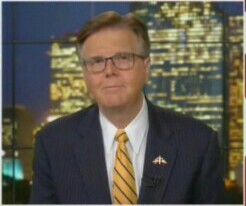 HOUSTON — In a recent appearance on Fox News' Tucker Carlson show, Lt. Governor proposed what he called an "innovative solution" to address the economic fallout from the Coronavirus pandemic.
"As this shutdown continues with no end in sight, the economic repercussions have become clear" Patrick said. Too many Texans are struggling to put food on the table. Meanwhile, Senior Citizens clog our health care facilities and reduce capacity."

"Therefore," Patrick continued, "I am proposing the slaughter of Texans over the age of 70 for purposes of food. Senior citizens are a robust source of protein. This is the type of innovative solution and outside the box thinking Texas needs.

Governor Greg Abbott said he would discuss Patrick's proposal at a Tuesday press conference.